Forex Fibonacci Calculator
Knowing how to use Fibonacci retracements and extensions in the trade can bring your trading to a new successful level. We have created free software —
Forex Fibonacci Calculator v2.1 (538Kb)
— which can be downloaded and used whenever you need to learn more about the price on the Forex chart.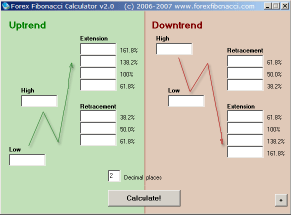 Forex Fibonacci Calculator v2.1 is a simple and useful tool that will help you to calculate Fibonacci extension and retracement levels for the market price. You will be able to anticipate market price moves and plan future trades according to the calculated results.
Note, that calculation formulas will differ for uptrend and downtrend moves, therefore use appropriate panel in the Calculator to input price values.
You can also find those formulas used for calculating Fibonacci levels on the program panel below.
In order to calculate Fibonacci levels with this program traders need to fill in High and Low values for the price and click on "Calculate!"
Tip: Change default field "Decimal places" to get desired number of decimal places for calculated results.
Fibonacci calculations can be used for any currency pair and with any time frame. However, the bigger the time frame, the more accurate results traders should expect applying Fibonacci calculations.
Forex Fibonacci Calculator must be used only as a helping(!) tool for planning future trades. No liability will be taken for any losses or unwanted results caused by following the calculations obtained by using Forex Fibonacci Calculator.
We wish you profitable trading and hope this tool will help you to make one step forward in achieving your trading goals.
To your trading success!
Jeff Boyd
Got questions about Forex?
Ask here!